Roll over image to zoom in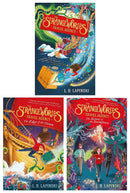 Titles In this Set:
The Strange worlds Travel Agency
The Edge of the Ocean
The Secrets of the Storm forest
The Strange worlds Travel Agency
When 12-year-old Flick Hudson accidentally ends up in the Strange worlds Travel Agency, she uncovers a fantastic secret: there are hundreds of other worlds just steps away from ours. All you have to do to visit them is jump into the right suitcase. Then Flick gets the invitation of a lifetime: join Strange worlds' magical travel society and explore other worlds.

But, unknown to Flick, the world at the very centre of it all, a city called Five Lights, is in danger. Buildings and even streets are mysteriously disappearing. Once Flick realizes what's happening she must race against time, travelling through unchartered worlds, seeking a way to fix Five Lights before it collapses into nothingness - and takes our world with it.

The Edge of the Ocean
Flick is now a badge-wearing member of The Strange worlds Travel Agency so when an urgent summons arrives at Strange worlds from Pirate Queen Nyfe, she and Strange worlds Society guardian Jonathan immediately pack their bags for an adventure to Queen Nyfe's world: The Break, a place of magic and piracy.

Nyfe's world is falling apart. The Break is used to having ships vanish without a trace, but there has been a sudden increase that can't be explained by giant squid or mer-people. The edge of their flat world is coming ever closer to them and they need to escape before it collapses entirely.

The Secrets of the Storm forest
Flick and Jonathan have faced countless dangers in their roles as part of the Strange worlds Society and come out alive on the other side. But what do they really know about the Society they are risking their lives for?

Why does it exist? Who is Strange worlds there to protect? And what in the worlds is happening to the multiverse now?
Payment & Security
Payment methods
Your payment information is processed securely. We do not store credit card details nor have access to your credit card information.
---
Security