Roll over image to zoom in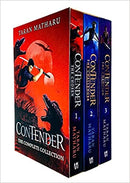 Titles in this Set: 
The Challenger 
The Chosen
The Champion


The Challenger:
CADE CARTER HAS BEEN CHOSEN

In a realm of monsters and warriors, Cade is an unwilling contender in a deadly tournament controlled by the brutal alien overlord Abaddon.

Cade may have won the first round but the fight isn't over yet. For his next battle he must duel a seven-foot-tall, clawed monster - the reigning champion of an alien race.

LOSING WILL LEAD TO EARTH'S DESTRUCTION

Desperate for anything that may give him an advantage, Cade sets off on an expedition into the jungle to scavenge weaponry to help him win. But there he is captured by gladiators, and before he knows it he finds himself participating in a deadly new game where the prize is his freedom.

The Chosen:
CADE CARTER IS LOST

Convicted of a crime he didn't commit, Cade is facing a year in reform school when he finds himself suddenly transported to another realm.

BUT THIS NEW WORLD IS NO ESCAPE

Populated by bloodthirsty prehistoric creatures and fierce warriors, Cade's surroundings are full of danger. Along with his fellow students, Cade is forced to become a contender in a deadly game of the highest stakes, controlled by invisible overlords.


The Champion:
CADE AND HIS FRIENDS ARE FIGHTING FOR EARTH
Cade has managed to survive the duel with the Hydra Alpha - barely. But the Games are far from over.
By order of the cruel and mysterious alien overlord, Abaddon, Cade and his friends are sent off to war against the Greys, a humanoid race who have far surpassed humans in technology on their home planet.
A GLIMMER OF HOPE?
This attempt to move up the leaderboard leads Cade to a game-changing revelation: The Pantheon - the millennia-old alien masterminds behind the Games - have a weakness.
With the right artefacts scavenged from the land of Acies and a heavy dose of courage and luck, Cade has exactly one chance to end their tyranny for ever. But if he fails, for the lives of his friends and the survival of Earth it will be ...
GAME OVER
A satisfying must-read finale for fans of THE CHOSEN and THE CHAMPION.
Payment & Security
Payment methods
Your payment information is processed securely. We do not store credit card details nor have access to your credit card information.
---
Security