Roll over image to zoom in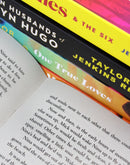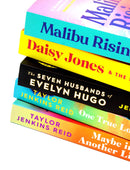 Titles In this Set:
Seven Husbands of Evelyn Hugo
Maybe in Another Life
One True Loves
Malibu Rising
Daisy Jones & The Six
Seven Husbands of Evelyn Hugo
Aging and reclusive Hollywood movie icon Evelyn Hugo is finally ready to tell the truth about her glamorous and scandalous life. But when she chooses unknown magazine reporter Monique Grant for the job, no one is more astounded than Monique herself. Why her? Why now?

Maybe in Another Life
At the age of twenty-nine, Hannah Martin still has no idea what she wants to do with her life. She has lived in six different cities and held countless jobs since graduating college. On the heels of leaving another city, Hannah moves back to her hometown of Los Angeles and takes up residence with her best friend Gabby. Shortly after, Hannah goes out to a bar one night with Gabby and meets up with her high school boyfriend, Ethan.

One True Loves
In her twenties, Emma Blair marries her high school sweetheart, Jesse. They build a life for themselves, far away from the expectations of their parents and the people of their hometown in Massachusetts. They travel the world together, living life to the fullest and seizing every opportunity for adventure. On their first wedding anniversary, Jesse is on a helicopter over the Pacific when it goes missing. Just like that, Jesse is gone forever.

Malibu Rising
August,1983, it is the day of Nina Riva's annual end-of-summer party, and anticipation is at a fever pitch. Everyone who is anyone wants to be around the famous Rivas: surfer and supermodel Nina, brothers Jay and Hud, and their adored baby sister Kit. Together, the siblings are a source of fascination in Malibu and the world over - especially as the children of the legendary singer Mick Riva.
By midnight the party will be completely out of control.
By morning, the Riva mansion will have gone up in flames.
But before that first spark in the early hours of dawn, the alcohol will flow, the music will play, and the loves and secrets that shaped this family will all come bubbling to the surface.

Daisy Jones & The Six
Everybody knows Daisy Jones and the Six.
From the moment Daisy walked barefoot on to the stage at the Whisky, she and the band were a sensation.
Their sound defined an era. Their albums were on every turntable. They played sold-out arenas from coast to coast.
Then, on 12 July 1979, it all came crashing down.
They were lovers, friends, brothers. But they were also rivals.
This is the story of their legendary rise and irrevocable fall. A story of ambition, desire, heartbreak and music.
Everyone was there. Everyone remembers it differently. Nobody knew why they split. Until now...


Payment & Security
Payment methods
Your payment information is processed securely. We do not store credit card details nor have access to your credit card information.
---
Security