Roll over image to zoom in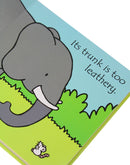 That's Not My Elephant" is an engaging children's board book that invites young readers on a delightful sensory adventure. Written by Fiona Watt and illustrated by Rachel Wells, this charming book takes children on a playful journey as they explore various textures and captivating illustrations.
In "That's Not My Elephant," readers are introduced to a series of elephants, each with distinct features. Through touch-and-feel patches, children can explore different textures and search for the one that matches the description of their elephant.
The book stimulates sensory exploration, encouraging children to touch and feel different materials, enhancing their sensory awareness and fine motor skills. The repetitive text structure and simple language make it accessible for early readers, fostering language development.
Accompanied by vibrant and charming illustrations, "That's Not My Elephant" sparks curiosity and encourages children to explore the pages independently or share the reading experience with caregivers. The book's playful and reassuring tone celebrates the unique qualities of elephants and cultivates a sense of discovery.
As children follow the delightful illustrations and tactile elements, they will experience the joy of finding their elephant, expanding their cognitive and sensory understanding. The interactive format and tactile elements make "That's Not My Elephant" an ideal choice for early learning and bonding moments.
"That's Not My Elephant" is a delightful addition to the beloved "That's Not My..." series, capturing the imagination of young readers and providing an entertaining and hands-on reading experience. Whether shared during storytime or enjoyed during playtime, this book invites children to explore, engage, and celebrate the excitement of discovering their very own elephant.
Payment & Security
Payment methods
Your payment information is processed securely. We do not store credit card details nor have access to your credit card information.
---
Security