Roll over image to zoom in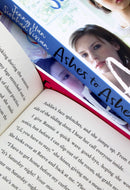 Titles In This Set:
Burn for Burn
Ashes to Ashes
Fire with Fire

Burn for Burn
Big girls don't cry... they get even. Postcard perfect Jar Island is home to charming tourist shops, pristine beaches, amazing ocean front homes and three girls quietly plotting revenge. Kat is tired of having people lie to her. One more cruel word from her ex best friend or her secret hook up acting like she doesn't exist will be the last straw. Those two deserve to feel as awful as they've made her feel.
Ashes to Ashes
New Year's Eve ended with a bang and Mary, Kat and Lillia may not be prepared for what is to come. After Rennie's death, Kat and Lillia try to put the pieces together of what happened to her. They both blame themselves. If Lillia hadn't left with Reeve... If Kat had only stayed with Rennie. . . Things could have been different. Now they will never be the same.
Fire with Fire
After the catastrophic events at the Homecoming Dance at the end of Burn for Burn, Lillia, Kat and Mary come face to face with the consequences of their actions - Reeve in the hospital. While Lillia and Kat begin to have reservations about moving forward with their revenge, Mary becomes convinced Reeve needs to get what is coming to him, no matter what. And as they agreed, each revenge plot needs to be completed.
Payment & Security
Payment methods
Your payment information is processed securely. We do not store credit card details nor have access to your credit card information.
---
Security