Roll over image to zoom in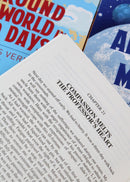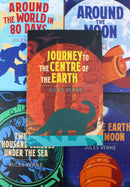 This essential five-volume box set brings together the classic works of Jules Verne, presented with striking contemporary cover designs.

Jules Verne was one of the most imaginative writers ever to have lived and his novels set the stage for science fiction for generations to come. Filled with adventure, flights of fancy, extraordinary characters and brilliant inventions, the novels of Jules Verne are not to be missed.

In Around the World in Eighty Days, Phileas Fogg embarks on a madcap race across the globe in which he must use every means at his disposal to achieve his grand goal.

Journey to the Centre of the Earth takes us deep beneath the surface as the eccentric Professor Liedenbrock uncovers the wonders that lie within.

Twenty Thousand Leagues Under the Sea introduces us to the enigmatic Captain Nemo and his submarine, the Nautilus, as he begins a fantastical voyage beneath the waves.

From the Earth to the Moon sees three friends journey to the Moon and its sequel, Around the Moon, recounts the obstacles and misadventures they face in order to return to Earth.

These collected volumes make a wonderful gift for any lover of classic fiction.
Payment & Security
Payment methods
Your payment information is processed securely. We do not store credit card details nor have access to your credit card information.
---
Security