Roll over image to zoom in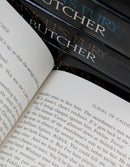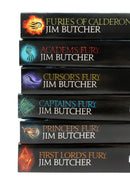 Furies Of Calderon:
For a thousand years, the people of Alera have united against the aggressive races that inhabit the world, using their unique bond with the furies - elementals of earth, air, fire, water and metal. But now, Gaius Sextus, First Lord of Alera, grows old and lacks an heir.
Academ's Fury:
Tavi has escaped the Calderon Valley and the mysterious attack of the Marat on his homeland. But he is far from safe, as trying to keep up the illusion of being a student while secretly training as one of the First Lord's spies is a dangerous game.
Cursor's Fury:
Power-hungry Kalare has rebelled against Alera's aging First Lord, Gaius Sextus. Ill-equipped to face this attack, Gaius must seek support - even from the combative High Lord of Aquitaine. Kalare has also seized valuable hostages that could mean the difference between victory and failure.
Captain's Fury:
Tavi of Calderon, now captain of his own Legion, has been fighting a bitter war for two years. Then he discovers the invading Canim warriors are harbingers of a far greater threat.
Princeps' Fury:
After bitter fighting, Tavi of Calderon has eventually forged an alliance with Alera's oldest foes, the savage Canim, and he must escort them on their long sea-voyage home. This will strain their fragile accord - but the worst is yet to come.
First Lord's Fury:
The aging First Lord of Alera has fallen in battle. Yet his people must continue to resist an invading inhuman army. Desperate Alerans even pledge fealty to the Vord Queen to survive, turning the incredible power of Aleran furies back on their own people.
Payment & Security
Payment methods
Your payment information is processed securely. We do not store credit card details nor have access to your credit card information.
---
Security