Roll over image to zoom in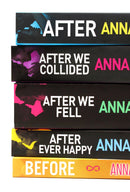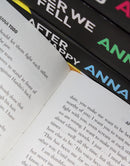 Titles in this set:
After
After Ever Happy
After We Collided
After We Fell
Before

After
There was the time before Tessa met Hardin, and then there's everything AFTER...Life will never be the same. Tessa is a good girl with a sweet, reliable boyfriend back home. She's got direction, ambition, and a mother who's intent on keeping her that way. But she's barely moved into her freshman dorm when she runs into Hardin. With his tousled brown hair, cocky British accent, tattoos, and lip ring, Hardin is undeniably hot! But he's also rude - to the point of cruelty, even. For all his attitude, Tessa should hate Hardin. And she does - until she finds herself alone with him in his room. Something about his dark mood grabs her, and when they kiss it ignites within her a passion she's never known before. He'll call her beautiful, then insist he isn't the one for her and disappear again and again.

After Ever Happy
Tessa and Hardin have defied all the odds, but will their fairy tale ending be turned on its head? After Ever Happy Life will never be the same. Its never been all rainbows and sunshine for Tessa and Hardin, but each new challenge they have faced has only made their passionate bond stronger and stronger. But when a revelation about the past shakes Hard in in penetrable façade to the core and then Tessa suffers a tragedy will they stick together again, or be torn apart? As the shocking truth about each of their families emerges, its clear the two lovers are not so different from each other. Tessa is no longer the sweet, simple, good girl she was when she met Hardin any more than he is the cruel, moody boy she fell so hard for.

After We Collided
Tessa has everything to lose. Hardin has nothing to lose...except her. AFTER WE COLLIDED...Life will never be the same. After a tumultuous beginning to their relationship, Tessa and Hardin were on the path to making things work. Tessa knew Hardin could be cruel, but when a bombshell revelation is dropped about the origins of their relationship and Hardins mysterious past Tessa is beside herself. Hardin will always be...Hardin. But is he really the deep, thoughtful guy Tessa fell madly in love with despite his angry exterior or has he been a stranger all along? She wishes she could walk away.Its just not that easy. Not with the memory of passionate nights spent in his arms. His electric touch.

After We Fell
Tessa and Hardins love was complicated before. Now its more confusing than ever. AFTER WE FELL...Life will never be the same. Just as Tessa makes the biggest decision of her life, everything changes. Revelations about first her family, and then Hardins, throw everything they knew before in doubt and makes their hard-won future together more difficult to claim . Tessas life begins to come unglued. Nothing is what she thought it was. Not her friends. Not her family. The one person she should be able to rely on, Hardin, is furious when he discovers the massive secret shes been keeping. And rather than being understanding, he turns to sabotage . Tessa knows Hardin loves her and will do anything to protect her, but theres a difference between loving someone and being able to have them in your life.

Before
Hardin met Tessa, he was a raging storm. DURING those first moments they met, he realized he needed to keep her for himself - his life depended on it. AFTER they got together, the world would never be the same. Hardin and Tessa's dramatic love affair became a vortex pulling in everyone around them. For the first time these others are given voice as they appear before, during, and after the events in the original After novels. Alongside them, Hardin's account of his first encounters with Tessa- which will change what you thought you knew about the brooding boy and the angel who loved him.
Payment & Security
Payment methods
Your payment information is processed securely. We do not store credit card details nor have access to your credit card information.
---
Security