Roll over image to zoom in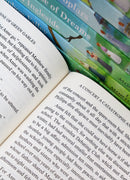 Titles In This Set:
Anne Of Green Gables
Anne Of Avonlea
Anne Of The Island
Anne Of Windy Poplars
Anne House Of Dreams
Anne Of Ingleside
Anne Of Rainbow Valley
Anne Of Rilla Of Ingleside

Anne Of Green Gables:
Marilla and Matthew Cuthbert wanted a boy to help with the farm work but of all the things Anne can imagine, leaving Green Gables isn't one of them.

Anne Of Avonlea:
Five years ago, Anne arrived at Avonlea a skinny orphan without a friend in the world; now it would be impossible to imagine Green Gables without her.

Anne Of The Island:
At eighteen years old Anne is leaving Green Gables for university - her life's dream. But her feelings are bittersweet: although excited to see the world, she is heartbroken to leave her home and everyone she loves.

Anne Of Windy Poplars:
Anne Shirley has left Redmond College behind to begin a new job and a new chapter of her life away from Green Gables. Now she faces a new challenge: the Pringles.

Anne House Of Dreams:
Unfortunately the town's most powerful family have already taken a disliking to her and Anne's charm appears to have met its match.

Anne Of Ingleside:
Anne, now Mrs Doctor Blythe, is still sometimes as impetuous as when she was the girl from Green Gables. But with six lively children and hard-worked Gilbert to look after - not to mention Gilbert's disapproving aunt, Anne has to be practical too.

Anne Of Rainbow Valley:
There was a little unfailing spring, always icy cold and crystal pure, in a certain birch-screened hollow of Rainbow Valley in the lower corner near the marsh.

Anne Of Rilla Of Ingleside:
Anne's daughter Rilla is just fifteen when her childhood ends. With the outbreak of WWI there's no time for mooning over handsome Kenneth Ford.
Payment & Security
Payment methods
Your payment information is processed securely. We do not store credit card details nor have access to your credit card information.
---
Security