Roll over image to zoom in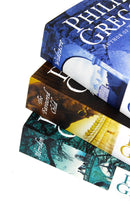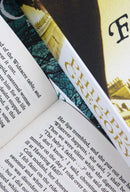 Titles In This Set:
Wideacre
The Favoured Child
Meridon

Wideacre:
Philippa Gregory's first novel and first in the bestselling Wideacre trilogy. A compelling tale of passion and intrigue set in the eighteenth century. From the author of The Other Boleyn Girl and The Virgin's Lover.
'If it was the way of the world that girls left home, then the world would have to change. I would never change.'
Wideacre Hall, set in the heart of the English countryside, is the ancestral home that Beatrice Lacey loves. But as a woman of the eighteenth century she has no right of inheritance. Corrupted by a world that mistreats women, she sets out to corrupt others. Sexual and wilful, she believes that the only way to achieve control over Wideacre is through a series of horrible crimes, and no-one escapes the consequences of her need to possess the land.


The Favoured Child:
The second novel in the bestselling Wideacre Trilogy, a compulsive drama set in the eighteenth century. By Philippa Gregory, the author of The Other Boleyn Girl and The Virgin's Lover.
The Wideacre estate is bankrupt, the villagers are living in poverty and Wideacre Hall is a smoke-blackened ruin.
But in the Dower House two children are being raised in protected innocence. Equal claimants to the inheritance of Wideacre, rivals for the love of the village, they are tied by a secret childhood betrothal but forbidden to marry. Only one can be the favoured child. Only one can inherit the magical understanding between the land and the Lacey family that can make the Sussex village grow green again. Only one can be Beatrice Lacey's true heir.

Meridon:

The third volume in the bestselling Wideacre Trilogy of novels. Set in the eighteenth century, they launched the career of Philippa Gregory, the bestselling author of The Other Boleyn Girl and Three Sisters, Three Queens.
Meridon, a desolate Romany girl, is determined to escape the hard poverty of her childhood. Riding bareback in a travelling show, while her sister Dandy risks her life on the trapeze, Meridon dedicates herself to freeing them both from danger and want.
But Dandy, beautiful, impatient, thieving Dandy, grabs too much, too quickly. And Meridon finds herself alone, riding in bitter grief through the rich Sussex farmlands towards a house called Wideacre – which awaits the return of the last of the Laceys.
Payment & Security
Payment methods
Your payment information is processed securely. We do not store credit card details nor have access to your credit card information.
---
Security