Roll over image to zoom in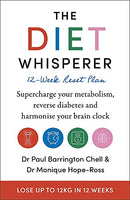 Two doctors want to help people lose weight, and they know how to do it. Obesity is now our biggest health threat and is ruining people's lives. Diets work for a while, but then fail. Why?

In 
The Diet Whisperer
, Dr Paul Barrington Chell and Dr Monique Hope-Ross explain in simple terms why we are now struggling with our weight. And the answers are very surprising. They tell us why calorie counting is flawed, and why exercise is not the answer. They dispel many long-held myths about weight loss and dieting, backing up their methods with up-to-date evidence-based medicine. In this remarkable book on wellness, the two doctors tell us exactly how to lose weight, lose it quickly, and lose it forever.

There are easy to follow plans, for fat adapting our bodies and controlling our fat storage hormones. They teach us how to combine these with safe intermittent fasting, to control our weight forever. As a new diet-whisperer, you will have the skills to make your loved ones healthier too.
Payment & Security
Payment methods
Your payment information is processed securely. We do not store credit card details nor have access to your credit card information.
---
Security