Roll over image to zoom in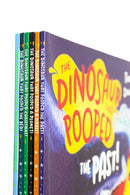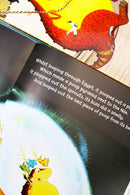 The Dinosaur That Pooped The Past

Danny and Dinosaur are back, and this time they are going to space! But when Danny realises he's forgotten Dino's lunch box, the very hungry dinosaur eats everything in sight, including their only way home: the rocket! How will Dino get them back home? There's poop, planets and pandemonium in this supersonic space adventure!

The Dinosaur That Pooped Christmas
Danny wants everything for Christmas. But what he gets is a dinosaur, a very hungry dinosaur. Danny's new dino eats up all of Christmas, but as we all know, what goes in must come out . . . Danny is about to have the most EXPLOSIVE Christmas of his life! There's poop, presents and prehistoric creatures in this festive feast!

The Dinosaur That Pooped A Planet
When they accidently go back through history on a time-travelling swing, Danny and Dinosaur meet some new dino friends. But soon there's a rumbling noise; it's a volcano about to erupt! Can Dinosaur save the day by pooping them back to the future? Find out in this hysterical historical adventure from the creators of THE DINOSAUR THAT POOPED CHRISTMAS and THE DINOSAUR THAT POOPED A PLANET.

Dinosaur That Pooped The Bed
Danny and Dinosaur want to watch telly but Mum won't let them until they've tidied their room. So Danny thinks of a plan to make all the mess go away - he gets Dino to eat it all up! But just when they think they can get away with it, there's a rumble in Dino's tummy - another EXPLOSIVE adventure is about to begin!

The Dinosaur That Pooped A Pirate
Danny and Dinosaur sailed out to sea on a ship that was crooked and old.
With a map in Dan's hand of a faraway land, where a pirate had buried his gold . . .

So begins this hilarious, swashbuckling adventure for Tom Fletcher and Dougie Poynter's much-loved characters Danny and Dinosaur!

This poop-filled extravaganza is brought to life by the preposterously talented illustrator Garry Parsons, and the brand new sea-shanty rhythm is perfect for reading out loud.

The Dinosaur That Pooped a Princess
Once upon a poop . . . Our fearless heroes are back! Danny and Dinosaur are convinced that a damsel in distress needs their help… the only problem is, they aren't sure where she actually is. So they set off through Fairy Tale Land to track her down, but things don't go exactly to plan… Can Dinosaur make it through Fairy Tale Land without eating everything in sight? And do all princesses really need to be rescued? Packed with prehistoric cheekiness, punchy girl power and, of course, lots and lots of poop!
Payment & Security
Payment methods
Your payment information is processed securely. We do not store credit card details nor have access to your credit card information.
---
Security