Roll over image to zoom in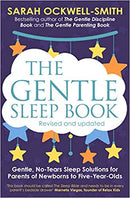 The Gentle Sleep Book offers gentle, reassuring and effective solutions to addressing the common sleep problems of newborns to five-year-olds.
Sarah Ockwell-Smith's methods don't involve common sleep-training techniques such as controlled crying and pick up/put down, instead she treads a carefully balanced line between the needs of sleep-deprived parents and those of the child.
The Gentle Sleep Book offers reliable, evidence-based advice on how to approach common issues including frequent waking, night terrors and night dryness, as well as practical suggestions tailored to each developmental stage, such as how to create the perfect sleep environment and bedtime routine, the effect of diet and how to use comfort objects effectively. All the information is supported by in-depth case studied to demonstrate how parents have used the suggestions to address their child's sleep problems.
'Sleep is not a battle, it's a balance and in this reassuring book Sarah helps parents find that balance' Saffia Farr, Editor, JUNO magazine
'This book should be called The Sleep Bible and needs to be in every parent's bedside drawer' Marneta Viegas, founder of Relax Kids
Payment & Security
Payment methods
Your payment information is processed securely. We do not store credit card details nor have access to your credit card information.
---
Security