Roll over image to zoom in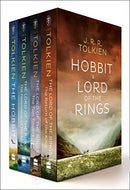 Titles In this Set:
The Hobbit:
The Fellowship of the Ring:
The Two Towers:
The Return of the King:
The Hobbit:
This is the story of how a Baggins had an adventure, and found himself doing and saying things altogether unexpected…Bilbo Baggins is a hobbit who enjoys a comfortable, unambitious life, rarely travelling further than the pantry of his hobbit-hole in Bag End. But his contentment is disturbed when the wizard, Gandalf, and a company of thirteen dwarves arrive on his doorstep one day, to whisk him away on a journey 'there and back again'.

The Fellowship of the Ring:
In a sleepy village in the Shire, a young hobbit is entrusted with an immense task. He must make a perilous journey across Middle-earth to the Cracks of Doom, there to destroy the Ruling Ring of Power – the only thing that prevents the Dark Lord Sauron's evil dominion.

The Two Towers:
The company of the Ring is torn asunder. Frodo and Sam continue their journey alone down the great River Anduin – alone, that is, save for the mysterious creeping figure that follows wherever they go. This continues the classic tale begun in The Fellowship of the Ring, which reaches its awesome climax in The Return of the King.

The Return of the King:
The armies of the Dark Lord are massing as his evil shadow spreads even wider. Men, Dwarves, Elves and Ents unite forces to battle against the Dark. Meanwhile, Frodo and Sam struggle further into Mordor in their heroic quest to destroy the One Ring.
Payment & Security
Payment methods
Your payment information is processed securely. We do not store credit card details nor have access to your credit card information.
---
Security