Roll over image to zoom in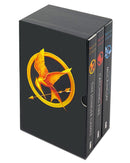 Titles in this set:
The Hunger Games
Mockingjay
Catching Fire

The Hunger Games
First in the ground-breaking HUNGER GAMES trilogy. Set in a dark vision of the near future, a terrifying reality TV show is taking place. Twelve boys and twelve girls are forced to appear in a live event called The Hunger Games. There is only one rule: kill or be killed. When sixteen-year-old Katniss Everdeen steps forward to take her younger sister's place in the games, she sees it as a death sentence. But Katniss has been close to death before. For her, survival is second nature.

Mockingjay
The final book in the ground-breaking HUNGER GAMES trilogy. Against all odds, Katniss Everdeen has survived the Hunger Games twice. But now that she's made it out of the bloody arena alive, she's still not safe. The Capitol is angry. The Capitol wants revenge. Who do they think should pay for the unrest? Katniss. And what's worse, President Snow has made it clear that no one else is safe either. Not Katniss's family, not her friends, not the people of District 12.

Catching Fire
After winning the brutal Hunger Games, Katniss Everdeen returns to her district, hoping for a peaceful future. But Katniss starts to hear rumours of a deadly rebellion against the Capitol. A rebellion that she and Peeta have helped to create. As Katniss and Peeta are forced to visit the districts on the Capitol's cruel Victory Tour, the stakes are higher than ever. Unless Katniss and Peeta can convince the world that they are still lost in their love for each other, the consequences will be horrifying... The terrifying sequel to The Hunger Games.
Payment & Security
Payment methods
Your payment information is processed securely. We do not store credit card details nor have access to your credit card information.
---
Security