Roll over image to zoom in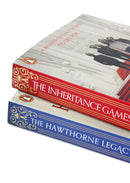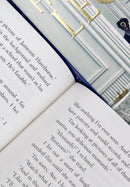 Titles In this Set:
The Inheritance Games: Tiktok Made Me Buy It 
The Hawthorne Legacy: Tiktok Made Me Buy It 
The Inheritance Games: Tiktok Made Me Buy It
She came from nothing.
Avery has a plan: keep her head down, work hard for a better future.
Then an eccentric billionaire dies, leaving her almost his entire fortune. And no one, least of all Avery, knows why.

They had everything.
Now she must move into the mansion she's inherited.
It's filled with secrets and codes, and the old man's surviving relatives - a family hell-bent on discovering why Avery got 'their' money.

Now there's only one rule: winner takes all.
Soon she is caught in a deadly game that everyone in this strange family is playing.
But just how far will they go to keep their fortune? 
The Hawthorne Legacy: Tiktok Made Me Buy It
The Inheritance Games ended with a bombshell, and now heiress Avery Grambs has to pick up the pieces and find the man who might hold the answers to all of her questions - including why Tobias Hawthorne left his entire fortune to Avery, a virtual stranger, rather than to his own daughters or grandsons.
As the mystery grows and the plot thickens, Grayson and Jameson, the enigmatic and magnetic Hawthorne grandsons, continue to pull Avery in different directions. And there are threats lurking around every corner, as adversaries emerge who will stop at nothing to see Avery out of the picture - by any means necessary.
Payment & Security
Payment methods
Your payment information is processed securely. We do not store credit card details nor have access to your credit card information.
---
Security