Roll over image to zoom in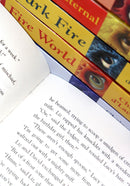 Titles In This Set

Dark Fire
Fire Ascending
Fire Eternal
Fire Star
Fire World
Icefire
The Fire Within

Dark Fire
With the Earth on the brink of recolonisation by dragons, David Rain is sent on an important mission: to seek out and destroy a trace of dark fire, the deadliest force in the universe. But with success could come a terrible price, the sacrifice of a beloved clay dragon. How much does the life of one small dragon count, when the alternative is the birth of a darkling...?

Fire Ascending
Guaranteed to be incredible, fantastical and the ultimate page-turner, this final title in The Last Dragon Chronicles brings together the amazing characters and wonderful worlds that Chris d'Lacey has drawn on throughout the series - in one stunning finale.

Fire Eternal
Five years have passed since David Rain, now a cult author, disappeared mysteriously in the Arctic. Life in Wayward Crescent has settled to relative normality. But as the weather grows wild and the ice caps melt, all eyes turn north, where bears and the souls of the Inuit dead are combining to produce a spectacular solution... A solution with its focus on David's child, Alexa - if the agents of evil don't reach her first.

Fire Star
A research trip to the Arctic and a new book - life can't get much better for David Rain. As soon as David finds himself in the icy climes, he starts to write his story of bears, dragons and the mysterious fire star. Soon he realises that his tale is beginning to mirror real life, and that an old adversary is on her way to meet him. Can David thwart her terrible master plan? Or will his world be destroyed for ever?

Fire World
Chris d'Lacey's wonderful storytelling takes us on a journey with familiar characters - in an unfamiliar place. Evil Aunts, intriguing firebirds and a dangerous universe await in another action-packed, compelling story.

Icefire
Life isn't exactly normal lodging at the Pennykettles - not when you're surrounded by hundreds of clay pottery dragons. Fate seems to be dictating an unusual course for David when his university tutor sets him a writing project on the existence - or not - of dragons. The tantalizing prize - a fully-funded research trip to the Arctic - seems just within his grasp. David starts to research the subject and soon discovers a connection between dragons and the Arctic just as it begins to snow. Is it only a coincidence? Or could deeper forces be at work? As David starts to uncover more about the dragons, he finds himself drawn down a path from which there is no going back to a time when dragons really did exist, and their secrets were guarded by the polar bears of the Arctic. If David is going to have any chance of winning the research trip, he has to open his mind to the legend of dragons and the mysterious secret of Icefire.

The Fire Within
'David ran a hand through his mop of brown hair. Dragons. It was certainly different from his last set of lodgings, where all you got were spiders and the occasional mouse. "It's perfect," he said.'When David arrives at Wayward Crescent he has no idea what lurks inside the Pennykettle house. Only when he's given his own special dragon does he begin to unlock their mysterious secrets, and to discover the fire within...
Payment & Security
Payment methods
Your payment information is processed securely. We do not store credit card details nor have access to your credit card information.
---
Security