Roll over image to zoom in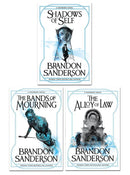 Titles in This Set
Shadows of Self
The Bands of Mourning
The Alloy of Law
Shadows of Self
The criminal elite of Elendel were invited to an auction - which became a massacre, when an unknown assailant slaughtered everyone in attendance. Now Wax and Wayne, both able to use magic, both lawmen from the rough and ungoverned frontier territories, are on the case.

The Bands of Mourning
The Bands of Mourning are the mythical metal minds owned by the Lord Ruler, said to grant anyone who wears them the powers that the Lord Ruler had at his command. Hardly anyone thinks they really exist. A kandra researcher has returned to Elendel with images that seem to depict the Bands, as well as writings in a language that no one can read. Waxillium Ladrian is recruited to travel south to the city of New Seran to investigate. Along the way he discovers hints that point to the true goals of his uncle Edwarn and the shadowy organization known as The Set

The Alloy of Law
Kelsier, Vin, Elend, Sazed, Spook, and the rest are now part of history—or religion. Yet even as science and technology are reaching new heights, the old magics of Allomancy and Feruchemy continue to play a role in this reborn world. Out in the frontier lands known as the Roughs, they are crucial tools for the brave men and women attempting to establish order and justice. One such is Waxillium Ladrian, a rare Twinborn who can Push on metals with his Allomancy and use Feruchemy to become lighter or heavier at will.

After twenty years in the Roughs, Wax has been forced by family tragedy to return to the metropolis of Elendel. Now he must reluctantly put away his guns and assume the duties and dignity incumbent upon the head of a noble house. Or so he thinks, until he learns the hard way that the mansions and elegant tree-lined streets of the city can be even more dangerous than the dusty plains of the Roughs.
Payment & Security
Payment methods
Your payment information is processed securely. We do not store credit card details nor have access to your credit card information.
---
Security