Roll over image to zoom in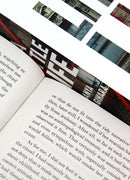 Titles In this Set
The People in the Trees:
A Little Life:

The People in the Trees:
It is 1950 when Norton Perina, a young doctor, embarks on an expedition to a remote Micronesian island in search of a rumoured lost tribe. There he encounters a strange group of forest dwellers who appear to have attained a form of immortality that preserves the body but not the mind. Perina uncovers their secret and returns with it to America, where he soon finds great success. But his discovery has come at a terrible cost, not only for the islanders, but for Perina himself.

A Little Life:
When four graduates from a small Massachusetts college move to New York to make their way, they're broke, adrift, and buoyed only by their friendship and ambition. There is kind, handsome Willem, an aspiring actor; JB, a quick-witted, sometimes cruel Brooklyn-born painter seeking entry to the art world; Malcolm, a frustrated architect at a prominent firm; and withdrawn, brilliant, enigmatic Jude, who serves as their centre of gravity. Over the decades, their relationships deepen and darken, tinged by addiction, success, and pride. Yet their greatest challenge, each comes to realize, is Jude himself, by midlife a terrifyingly talented litigator yet an increasingly broken man, his mind and body scarred by an unspeakable childhood, and haunted by what he fears is a degree of trauma that he'll not only be unable to overcome but that will define his life forever.
Payment & Security
Payment methods
Your payment information is processed securely. We do not store credit card details nor have access to your credit card information.
---
Security