Roll over image to zoom in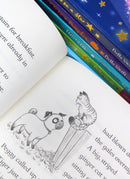 Titles In This Set:
The Pug Who Wanted To Be a Pumpkin
The Pug Who Wanted To Be a Unicorn
The Pug Who Wanted To Be a Bunny
The Pug Who Wanted To Be a Reindeer
The Pug Who Wanted To Be a Star
The Pug Who Wanted To Be Mermaid

The Pug Who Wanted To Be a Pumpkin
Peggy the pug's family are getting ready for Halloween, but Peggy's friend Chloe is too scared of monsters to look forward to trick-or-treating. Peggy can't let her best friend miss out on all the Halloween fun. She'll just have to conquer her own fears and go trick-or-treating with Chloe, to keep her safe. But first she needs the perfect costume . . .
The Pug Who Wanted To Be a Unicorn
When she's abandoned just before Christmas, Peggy the pug puppy is taken in by a foster family with a unicorn-mad little girl named Chloe. Her older brother, Finn, doesn't little dogs. And Chloe wants a unicorn for Christmas, not a puppy. Believing that anything is possible, Peggy decides that she will somehow turn into a unicorn to make her new friends happy. All she needs is a long silky mane, a glowing horn, and the ability to do magic! Easy-peasy, right?
But all of Peggy's attempts to turn into a unicorn go hilariously wrong. From knocking over the Christmas tree to getting lost in the snow and accidentally stealing the show at the nativity play, Peggy remains a pug. How will she ever find a forever home if she can't change who she is?
The Pug Who Wanted To Be a Bunny
Peggy the pug's family have adopted an adorable little bunny, just in time for Easter. Peggy used to be top dog, but now she has to share their attention with this long-eared newcomer. Jealous of the new pet, Peggy decides that she must become a rabbit to compete. Can every-bunny learn to get along and realise that there's more than enough love to go around?
The Pug Who Wanted To Be a Reindeer
When her family loses its Christmas spirit, Peggy heads to the North Pole to get it back! A festive adventure starring a love able little pug with a heart of gold. The perfect Christmas gift for children aged 5 years and up! Peggy's family has lost its Christmas spirit and Peggy is desperate to help them get it back. The little pug wishes she could turn into a reindeer so she could work some Christmas magic on her family. She tries eating carrots, giving herself antlers and a glowing red nose, but nothing works - and the messes she makes only create more problems at home! Finally, the brave little pug decides that the only solution is to ask Santa for help. But the North Pole is far away, and Peggy gets lost in a snowstorm before she even makes it out of town . . . Can Peggy find her way back to her family in time for a Christmas miracle?

The Pug Who Wanted To Be a Star

When Peggy the pug's friend Chloe is cast as Wendy in the school production of PETER PAN, Peggy feels left out. Chloe is too busy learning lines and going to rehearsals to play with her. So Peggy sets out to show Chloe that she has star quality, too. When a hilarious video of Peggy goes viral, Peggy becomes a celebrity overnight. Suddenly, she can't even go for a a walk to the park without being stopped for a selfie. Maybe fame isn't all it's cracked up to be . . . But when Chloe gets stage fright, Peggy knows the show must go on!

The Pug Who Wanted To Be Mermaid

Peggy the pug is going on holiday to the seaside! Her special friend Chloe is excited, too, and hopes that she'll see a mermaid. But even though Chloe and Peggy search the beach, they can't find a mermaid anywhere. Not wanting her friend to be disappointed, Peggy decides that she'll just have to become a mermaid herself! But that means that she's going to have to learn how to doggy paddle . . .

Payment & Security
Payment methods
Your payment information is processed securely. We do not store credit card details nor have access to your credit card information.
---
Security