Roll over image to zoom in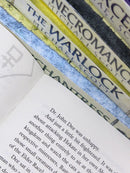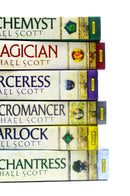 The two that are one must become the one that is all. One to save the world, one to destroy it. San Francisco: Nicholas and Perenelle Flamel have one day left to live, and one job left to do. They must defend San Francisco. The monsters gathered on Alcatraz Island have been released and are heading toward the city. If they are not stopped, they will destroy everyone and everything in their path.
Winner of a Parents'' Choice Silver Honor Award, 2012. The Newman twins have finally been divided. The end is near. In San Francisco, Josh has chosen a side - and he will not stand with his sister, Sophie, or the Alchemyst, Nicholas Flamel. He has chosen to fight along side John Dee and the mysterious Virginia Dare. Sophie will do anything she can to find her brother, but her training must continue. With Perenelle and Nicholas as weak as they are, Niten must help her to master Earth Magic.
Sophie and Josh have returned to San Francisco. They must protect themselves from the Dark Elders, but they've not yet mastered the magic they''ll need to do so. Their trust in Nicholas Flamel is shaken, and their friend Scatty is missing. Unbeknownst to the twins, John Dee has amassed an enormous army of foul creatures, with which he plans to battle Nicholas and his wife, Peronelle. In order for his plan to work, he must train a necromancer to raise the Mother of the Gods from the dead.
Nicholas Flamel was born in Paris on 28 September 1330. Nearly seven hundred years later, he is acknowledged as the greatest Alchemyst of his day. It is said that he discovered the secret of eternal life. The records show that he died in 1418. But his tomb is empty and Nicholas Flamel lives.
The book of Abraham the Mage holds the secret of eternal life - a secret more dangerous than any one man should possess. Dr John Dee is two pages away from the knowledge that would bring the Dark Elders into ultimate power - and could mean the destruction of the world as we know it. Two people stand in his way: Josh and Sophie Newman.
Dr John Dee has destroyed Paris in his mission to find Nicholas Flamel and Sophie and Josh Newman. The two missing pages of the book of Abraham the Mage are still with them and the Dark Elders need them for the Final Summoning. They will not rest until they are in power and the human race has been destroyed. Nicholas Flamel knows he must protect Josh and Sophie and the pages from the Dark Elders.
Payment & Security
Payment methods
Your payment information is processed securely. We do not store credit card details nor have access to your credit card information.
---
Security