Roll over image to zoom in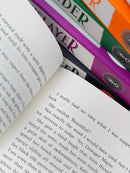 Titles in this set:
Spellslinger
Shadowblack
Queenslayer
Crownbreaker
Spellslinger
Kellen is moments away from facing his first mage's duel and the start of four trials that will make him a spellcaster. There's just one problem: his magic is gone. As his sixteenth birthday approaches; Kellen falls back on his cunning in a bid to avoid total disgrace. But when a daring stranger arrives in town; she challenges Kellen to take a different path. Ferius Parfax is one of the mysterious Argosi - a traveller who lives by her wits and the three decks of cards she carries. She's difficult and unpredictable; but she may be Kellen's only hope.
Shadowblack
Four months after fleeing his own people; Kellen has discovered he's an even worse outlaw than he was mage. It doesn't help that his only allies are a swaggering card player and a thieving squirrel cat. Then he meets Seneira; a blindfolded girl who isn't blind; and whose secrets get them caught up in a conspiracy of magic; blackmail and murder. Now Kellen must find the mage responsible before the entire frontier falls victim to the mystical plague known as the shadowblack.
Charmcaster
Kellen; Reichis and Ferius are on their way to Gitabria; a city where amazing inventions are dreamed up and sold across the land of the Seven Sands. But when the three of them stumble across a tiny mechanical bird; magically brought to life; they quickly realise all is not as it appears. Meanwhile two strange Argosi appear; carrying secrets from Ferius' past; together with an unlikely Jan'Tep ally. And as time ticks on; all the cards in Ferius' deck point to the emerging tides of war . . .
Soulbinder
Kellen and his murderous squirrel cat; Reichis; are on their own. They've heard rumour of a mythical monastery; known as the Ebony Abbey. It's a place that outsiders can never find - but Kellen is getting desperate. He's been told that the monks inside the Ebony Abbey know more about the Shadowblack than anyone else - and that they even know how to cure it. Then Kellen and Reichis are separated and for the first time; Kellen must face the world alone - and venture deeper into shadow magic than he ever knew he could.
Queenslayer
Kellen and Reichis have just finished fighting a duel in the desert when Kellen inadvertently smears blood on the Daroman flag - an act of treason for which the Marshals have no choice but to arrest him. Just before he's put before the Queen to be executed; Kellen is given a strange piece of advice from one of his fellow prisoners: kill the Queen and he'll be given clemency by those who take power. But when Kellen comes face-to-face with the eleven year-old monarch; he realises she's vastly smarter than he expected - and in a great deal more danger.
Crownbreaker
Kellen and Reichis are settling into their lives as protectors of the young queen. For the first time Kellen feels as if he's becoming the kind of man that his mentor Ferius had wanted him to be. Even Reichis has come to appreciate having a noble purpose - so long as no one minds him committing the occasional act of theft from the royal treasury. But thousands of miles away a war is brewing that the Argosi always warned could destroy the continent. An unexpected source brings word that there's one way Kellen can prevent a hundred years of bloodshed, and all it requires is a little murder...
Now Kellen and his sister Shalla find themselves on opposite sides, and neither love nor loyalty can protect them from the choices they must make
Payment & Security
Payment methods
Your payment information is processed securely. We do not store credit card details nor have access to your credit card information.
---
Security