Roll over image to zoom in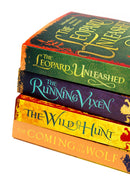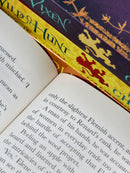 Titles In This Set:
The Wild Hunt
The Running Vixen
The Coming of the Wolf
The Leopard Unleashed
The Wild Hunt:

In the wild, windswept Welsh marches a noble young lord rides homewards, embittered, angry and in danger. He is Guyon, lord of Ledworth, heir to threatened lands, husband-to-be of Judith of Ravenstow. Their union will save his territory - but they have yet to meet...For this is Wales at the turn of the twelfth century. Dynasties forge and fight, and behind the precarious throne of William Rufus, political intrigue is raging.


The Running Vixen:

1126. Heulwen, daughter of Welsh Marcher baron Guyon FitzMiles, has grown up with her father's ward, Adam de Lacey. There has always been a spark between them, but when Heulwen marries elsewhere, to Ralf le Chevalier, a devastated Adam absents himself on various diplomatic missions for King Henry I.


The Coming of the Wolf:

When Ashdyke Manor is attacked, Lady Christen is forced to witness her husband's murder and the pillaging of her lands at the hands of brutal Norman invaders. It seems the pain is finally over when Miles Le Gallois, Lord of Milnham-on-Wye, calls off the attack. But he has Christen's brother under armed guard and a deal to offer: her brother's freedom for her hand in marriage.


The Leopard Unleashed:

Renard, heir to Ravenstow, is a crusader in Antioch, a place far removed from the cold Welsh Marches of his birth. Summoned home to his ailing father, Renard brings Olwen with him, an exotic dancing girl whose sensuous beauty and wild ways have ensnared him.
Payment & Security
Payment methods
Your payment information is processed securely. We do not store credit card details nor have access to your credit card information.
---
Security