Roll over image to zoom in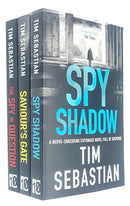 Titles In this Set:
Spy Shadow:
Saviour's Gate:
The Spy in Question:
Spy Shadow:
James Tristram is an aging secret operative, soft of body but sharp of mind. Sent by English spymaster Cornish to aid an uprising against the Polish government and its Russian sponsors, Tristram discovers the mission is a ploy. The real plot, concocted by Russian Stalinists with the aid of a long-time mole in the British secret service, aims to discredit the government of the Gorbachev-like general secretary of the Russian Communist Party.

Saviour's Gate:
Each night a small jet leaves Moscow heading for a lonely outpost in the frozen Soviet North. It takes no passengers and brings none back. Intelligence shows this is neither a cargo flight nor a military flight. The British believe it's an escape route for the beleaguered General Secretary, who will use it, just moments before he's toppled from power.

The Spy in Question:
It's 1990, and Dmitry Kalyagin is about to attain membership in Gorbachev's politburo when his long-dormant status as a "mole" for the British is suddenly reactivated. English intelligence man George Parker, feeling indebted to Kalyagin, initiates a covert effort to pull the agent out before his identity can be uncovered by the Soviets.
Payment & Security
Payment methods
Your payment information is processed securely. We do not store credit card details nor have access to your credit card information.
---
Security