Roll over image to zoom in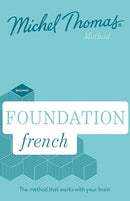 Learn French -
Instantly
.
No books. No writing. No memorizing.
Join the millions of people worldwide who have learned a new language with the Michel Thomas method.
- Guaranteed success. Speak and understand French perfectly.
- Incredible progress. Learn French effortlessly.
- Absolute confidence. Unleash your natural learning style without trying.
The Method:
Stress-free Audio Learning
You are taught French through your own language, so there is no stress and no anxiety. Take your time going over each section, step by step, until you have understood and absorbed the material. As Michel Thomas said, "What you understand, you know; and what you know, you don't forget."
You will learn French in "real-time" conditions. There is no need to stop for homework, additional exercises, or vocabulary memorization.
Learn Anywhere
The Michel Thomas audio courses allow you to learn wherever, whenever you want: at home, in your car, or on the move. All you need is a CD player and/or MP3 player.
How Does it Work?
- Listen. Collect words effortlessly by listening.
- Connect. Create your own mental tool kit by understanding how words fit together.
- Speak. Put the words back together to build sentences, naturally.
Why It Works:
Learn French the Way You Learned Your Own Language
You learned your own language naturally: now you can learn French in the same way. You will stick with this method because you will love it. Use the unique learning method perfected over fifty years by the celebrated psychologist and linguist Michel Thomas.
Works With Your Brain
The course helps you to build up your French in manageable steps by enabling you to think the answers out yourself. You will learn through listening and speaking, without the pressure of writing or memorizing.
What's in the Course?
- Up to 12 hours of audio material on CD
- *NEW* in this revised edition: CD-ROM for PC or Mac so you can see the words and sentences you are learning, with additional quizzes and exercises for practice
Which Course Level Is Right for You?
Start: One hour introduction to a language
Total: Jump into a language as a beginner and build your understanding from the ground-up
Perfect: Pave your way to fluency in a language after undertaking the Total course
Masterclass: Round out your language ability in unique, one-on-one lectures
Payment & Security
Payment methods
Your payment information is processed securely. We do not store credit card details nor have access to your credit card information.
---
Security