Roll over image to zoom in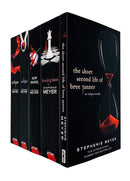 Introduction:
Experience the captivating world of the Twilight Saga with the Black Cover edition by Stephenie Meyer. This mesmerizing five-book series delves into the thrilling love story between Bella Swan and Edward Cullen, as well as the supernatural dangers that surround them. From the intense romance of Twilight to the heart-pounding action of Eclipse and Breaking Dawn, immerse yourself in a world of vampires, werewolves, and forbidden love. The Twilight Saga Black Cover edition is a must-read for fans and newcomers alike, offering an enthralling blend of fantasy, romance, and suspense that will leave you breathless.

Titles In This Set:


The Short Second Life Of Bree Tanner




Breaking Dawn


New Moon


Twilight




Eclipse



Description:

The Short Second Life Of Bree Tanner:

I turned off my brain. It was time to hunt. I took a deep breath, drawing in the scent of the blood inside the humans below. They weren't the only humans around, but they were the closest.


Breaking Dawn:

Twilight tempted the imagination . . . New Moon made readers thirsty for more . . . Eclipse turned the saga into a worldwide phenomenon . . . And now - the book that everyone has been waiting for . . . Breaking Dawn.


New Moon:

I stuck my finger under the edge of the paper and jerked it under the tape. 'Shoot,' I muttered when the paper sliced my finger. A single drop of blood oozed from the tiny cut. It all happened very quickly then.


Twilight:

When 17 year old Isabella Swan moves to Forks, Washington to live with her father she expects that her new life will be as dull as the town. But in spite of her awkward manner and low expectations, she finds that her new classmates are drawn to this pale, dark-haired new girl in town.


Eclipse:

Edward's soft voice came from behind me. I turned to see him spring lightly up the porch steps, his hair windblown from running. He pulled me into his arms at once, and kissed me again.
Payment & Security
Payment methods
Your payment information is processed securely. We do not store credit card details nor have access to your credit card information.
---
Security