Roll over image to zoom in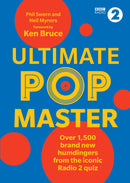 Get ready to take on the ultimate PopMaster challenge from the minds behind BBC Radio 2's iconic quiz. Every weekday morning over eight million people across the nation stop what they're doing, fix themselves a cuppa and settle in to listen to the PopMaster quiz on 
The Ken Bruce Show.
Now it's your turn to join the throng and pit your musical knowledge against expert question setters Phil Swern and Neil Myners.
Ultimate PopMaster
is an endlessly entertaining collection of brainteasers, featuring a foreword from the Pop Master himself, Ken Bruce, and 1,500 brand new questions that get progressively harder as you work your way through the book. Discover a surprise twist when you reach the final quiz, in which you'll get the chance to become ultimate PopMaster champion.
Covering music from 1958 to 2020, this official quiz companion has something for everyone. So, whether you're a pop anorak or incidental music fan, get stuck in on your own or with friends and family, and watch the hours fly by.

Who had a top 10 hit in 1997 with 'The James Bond Theme' as featured in the movie
Tomorrow Never Dies
?

Which legendary soul singer was the subject of the 2015 number one hit by Charlie Puth featuring Meghan Trainor?

Which group of comedians had a Top 10 hit in 1975 with Black Pudding Bertha (The Queen Of Northern Soul)?
Payment & Security
Payment methods
Your payment information is processed securely. We do not store credit card details nor have access to your credit card information.
---
Security