Roll over image to zoom in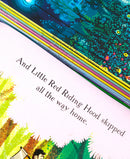 Titles In this Set:
The Gingerbread Man
Wizard of Oz
Cinderella
Snow White & the Seven Dwarfs
The Story of Robin Hood
Jack and the Beanstalk
Little Red Riding Hood
The Elves and the Shoemaker
The Princess and the Pea
Aladdin
The Gingerbread Man
Run, run as fast as you can, you can't catch him, he's the Gingerbread Man! But although he may be able to out-run everyone, can the Gingerbread Man outwit the cunning fox?

Wizard of Oz
When Dorothy is whisked off to Oz in a tornado, she lands in a place where nothing is quite as it seems. Can she find the Wizard, defeat the Wicked Witch of the West?

Cinderella
The classic fairy tale, specially retold for young children and illustrated with fresh, bright pictures. Poor Cinderella is made to cook and clean for her stepsisters.

Snow White & the Seven Dwarfs
'Mirror, mirror, on the wall, who's the fairest of us all?' When the Queen hears the wrong answer, Snow White must flee for her life - until she meets not one, but seven rescuers...

The Story of Robin Hood
Robin Hood famously 'stole from the rich to give to the poor'. This illustrated picture book brings his legend to life for little children.

Jack and the Beanstalk
Jack and his mother are so poor that they don't have anything to eat. Their hope is fading, until Jack meets a strange little man with a handful of magic beans. But what will be the price that Jack must pay?

Little Red Riding Hood
Little Red Riding Hood is off to visit her Grandma, but following her through the forest is a very hungry wolf.

The Elves and the Shoemaker
Who keeps helping the old shoemaker and making such wonderful shoes while he sleeps? And how can the shoemaker repay their kindness?

The Princess and the Pea
A lonely young prince wants to get married, but how can he find a real princess?

Aladdin
When Aladdin finds his long-lost uncle, he is promised riches beyond his dreams. But is everything what it seems?
Payment & Security
Payment methods
Your payment information is processed securely. We do not store credit card details nor have access to your credit card information.
---
Security