Roll over image to zoom in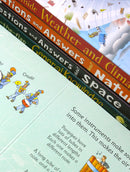 Titles In This Set:
General Knowledge
How Things Work
Questions and Answers about Nature
Questions and Answers About Space
See Inside Weather and Climate


General Knowledge
This interactive information book contains over 135 flaps and hundreds of facts. Find out how many seeds a pomegranate has, how fast a woodpecker pecks, how many plays Shakespeare wrote, which is the warmest sea in the world, when the Eiffel Tower was built, what type of snack is the heaviest, and much, much more. 
How Things Work
An amazing flap book packed with inventions, machines, gadgets and devices, and facts and information about how they work. Over 90 flaps reveal the insides of car engines, toilets, escalators, submarines and microwaves and many, many other machines. Includes internet links to websites with animations, games and experiments. 

Questions and Answers about Nature
Why do spiders make webs? Where do clouds come from? And how many leaves does a tree have? Inquisitive young children can discover the answers to these questions and many more in this beautifully illustrated information book, containing over 60 flaps to lift. A fascinating introduction to the natural world.

Questions and Answers About Space
With over 60 flaps to lift, this delightful book answers questions such as 'Where have people visited in space?', 'What's a cosmonaut?', 'Why can't I see stars in daytime'; and lots more what, where, how, why, and yes or no questions with answers beneath the flaps. Internet links take children to carefully selected websites to find out more.
See Inside Weather and Climate
A lift-the-flap information book that introduces readers to the science of weather. Filled with facts from how hurricanes and floods happen to how global warming is affecting the Earth's climates.
Payment & Security
Payment methods
Your payment information is processed securely. We do not store credit card details nor have access to your credit card information.
---
Security