Roll over image to zoom in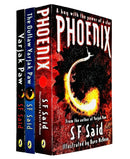 Varjak Paw

Varjak Paw is a Mesopotamian Blue kitten. He lives high up in an old house on a hill. He's never left home, but then his grandfather tells him about the Way - a secret martial art for cats.
Now Varjak must use the Way to survive in a city full of dangerous dogs, cat gangs and, strangest of all the mysterious Vanishings.Books Collection
Having saved the city cats from a fate worse than death, Varjak Paw finds himself the elected and popular leader of a new gang - a gang that supports freedom and kindness for all. But will the pressure take its toll on this brave yet sometimes naive cat?
Soon the city erupts in an all-out gang war as the evil Sally Bones attempts to control the lives of all cats. Horrified and outnumbered, Varjak and the others must fight for their freedom or die trying; can Jalal's Way really be the best way?Books Collection
Lucky thinks he's an ordinary Human boy. But one night, he dreams that the stars are singing to him, and wakes to find an uncontrollable power rising inside him.
Now he's on the run, racing through space, searching for answers. In a galaxy at war, where Humans and Aliens are deadly enemies, the only people who can help him are an Alien starship crew – and an Alien warrior girl, with neon needles in her hair
Payment & Security
Payment methods
Your payment information is processed securely. We do not store credit card details nor have access to your credit card information.
---
Security