Roll over image to zoom in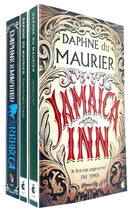 Rebecca:
London 1862. Sue Trinder, orphaned at birth, grows up among petty thieves - fingersmiths - under the rough but loving care of Mrs Sucksby and her 'family'. But from the moment she draws breath, Sue's fate is linked to that of another orphan growing up in a gloomy mansion not too many miles away.
Jamaica Inn:
Piercing the shadows of the naked stage was a single shaft of rosy limelight, and in the centre of this was a girl: the most marvellous girl - I knew it at once! - that I had ever seen. A saucy, sensuous and multi-layered historical romance, Tipping the Velvet follows the glittering career of Nan King - oyster girl turned music-hall star turned rent boy turned East End 'tom'.
Frenchman's Creek:
Set in and around the women's prison at Milbank in the 1870's , AFFINITY is an eerie and utterly compelling ghost story, a complex and intriguing literary mystery and a poignant love story with an unexpected twist in the tale. Following the death of her father, Margaret Prior has decided to pursue some 'good work' with the lady criminals of one of London's most notorious gaols.
Payment & Security
Payment methods
Your payment information is processed securely. We do not store credit card details nor have access to your credit card information.
---
Security