Roll over image to zoom in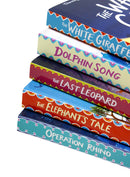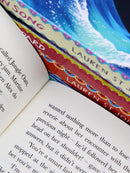 Titles In This Set:
The White Giraffe
When tragedy strikes on a winter's night in England, Martine is sent to live with her grandmother on a game reserve in South Africa.


Her wild, beautiful new home is riddled with secrets, but lonely Martine finds comfort in the legend of a white giraffe and in mysterious Grace, who believes Martine has a powerful gift.

Defying her grandmother by entering the reserve alone, Martine is plunged into a world of danger, mystery and adventure. Who can she trust? And how far will she go to save the only friend she has ever known?
Dolphin Song
It's June - winter in South Africa, and Martine and her grandmother are enjoying a cold but beautiful walk along the beach when they find a stranded, dying dolphin. Martine uses her gift of healing to help it back to the ocean but it's only the latest in a series of inexplicable beaching's of dolphins and whales - and the start of a brand new adventure for Martine.

The Last Leopard
Martine is looking forward to the holidays and riding Jemmy, her white giraffe, until an accident sends her and Ben on a journey to the Matobo Hills wilderness in Zimbabwe. It is a lawless land, where nothing is as it seems. When they uncover a plot in which the fate of a magnificent leopard and the lost treasure of an African King are mysteriously linked, their friendship faces its greatest test.


Far from home and the help of Grace and Tendai, and with Gwyn Thomas languishing, under false accusations, in jail, Martine and Ben must use every survival skill they possess.

They'll come face to face with Griffin, Mercy, Mr Ratcliffe (known as Rat), Magnus the hornbill, and a witch doctor, not to mention Khan, the last leopard. They must decide who their friends and enemies really are as they race against time to save the world's rarest leopard and each other.
The Elephant's Tale
It's the first day of the December school holidays and Martine has lots of fun planned for the next few weeks, not least spending time with Jemmy, her beloved white giraffe, and her best friend, Ben.
But her plans for a peaceful holiday are soon shattered when a sinister man informs Martine and her grandmother that Sabuwona is about to be repossessed. The nature reserve, and everything in it, will no longer belong to them.
Operation Rhino
When Sawubona's white rhinos are attacked, the poachers leave behind a terrified calf. Devastated but determined to help, Martine and Ben agree to take the rhino baby to a sanctuary near the Golden Gate Highlands National Park.

But the sanctuary is hiding a precious secret - one that must be guarded from the poachers at all costs. When the secret gets out, Martine and Ben find themselves in the fight of their lives to save one of the rarest animals on earth. But who can they trust?
Payment & Security
Payment methods
Your payment information is processed securely. We do not store credit card details nor have access to your credit card information.
---
Security