Roll over image to zoom in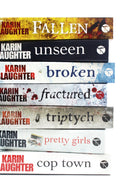 Titles In This Set:

Fallen
Unseen
Broken
Fractured
Triptych
Pretty Girls
Cop Town


Fallen:
Special Agent Faith Mitchell returns home to a nightmare. Her baby daughter Emma has been locked outside, and there's a trail of blood to the front door.
Unseen:
Special Agent Will Trent has something to hide. Something he doesn't want Dr Sara Linton – the woman he loves – to find out. He's gone undercover in Macon, Georgia and put his life at risk.
Broken:
When the body of a young woman is discovered deep beneath the icy waters of Lake Grant, a note left under a rock by the shore points to suicide. But within minutes, it becomes clear that this is no suicide.
Fractured:
When Atlanta housewife Abigail Campano comes home unexpectedly one afternoon, she walks into a nightmare. A broken window, a bloody footprint on the stairs and, most devastating of all, the horrifying sight of her teenage daughter lying dead on the landing.
Triptych:
When Atlanta police detective Michael Ormewood is called out to a murder scene at the notorious Grady Homes, he finds himself faced with one of the the most brutal killings of his career.
Pretty Girls:
More than twenty years ago, Claire and Lydia's teenage sister Julia vanished without a trace. The two women have not spoken since, and now their lives could not be more different. Claire is the glamorous trophy wife of an Atlanta millionaire.
Cop Town:
Atlanta, 1974. As a brutal killing and a furious manhunt rock the city, Kate Murphy wonders if her first day on the police force will also be her last. For life is anything but easy in the male-dominated world of the Atlanta Police Department.
Payment & Security
Payment methods
Your payment information is processed securely. We do not store credit card details nor have access to your credit card information.
---
Security