Roll over image to zoom in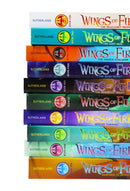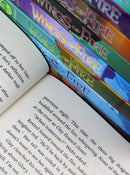 Introduction:
Explore the world of Pyrrhia with the complete Wings of Fire Series. This collection includes the 10 books in the series, from The Brightest Night to The Lost Heir, and promises an exhilarating fantasy experience. Dive into the lives and adventures of dragons and uncover their hidden kingdom.

Titles In This Set:
1. The Brightest Night
2. The Dark Secret
3. The Hidden Kingdom
4. The Lost Hair
5. The Dragonet Prophecy
6. Darkness Of Dragons
7. Talons Of Power
8. Escaping Peril
9. Winter Turning
10. Moon Rising
The New York Times bestselling Wings of Fire series is more collectible than ever in this paperback boxed set!

A war has been raging between the dragon tribes of Pyrrhia for years. According to a prophecy, five dragonets will end the bloodshed and choose a new queen. But not every dragonet wants a destiny. And when Clay, Tsunami, Glory, Starflight, and Sunny discover the truth about their unusual, secret upbringing, they might choose freedom over fate -- and find a way to save their world in their own way.

Payment & Security
Payment methods
Your payment information is processed securely. We do not store credit card details nor have access to your credit card information.
---
Security