Roll over image to zoom in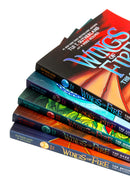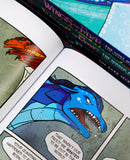 Titles In this Set:
The Dragonet Prophecy
The Lost Heir
The Hidden Kingdom
The Dark Secret
The Brightest Night
The Dragonet Prophecy
Clay has grown up under the mountain, chosen along with four other dragonets to fulfil a mysterious prophecy and end the war between the dragon tribes of Pyrrhia. He's not so sure about the prophecy part, but Clay can't imagine not living with the other dragonets; they're his best friends. So when one of the dragonets is threatened, all five spring into action.

The Lost Heir
She can't believe it's finally happening. Tsunami and her fellow dragonets of destiny are journeying under the water to the great Sea Wing Kingdom. Stolen as an egg from the royal hatchery, Tsunami is eager to meet her future subjects and reunite with her mother, Queen Coral. But Tsunami's triumphant return doesn't go quite the way she'd imagined.

The Hidden Kingdom
Glory knows that the dragon world is wrong about her being "a lazy Rain Wing." Maybe she wasn't meant to be one of the dragonets of destiny, but Glory is sharp and her venom is deadly ... even if that's still a secret. So when the dragonets seek shelter in the rain forest, Glory is devastated to find that the treetops are full of Rain Wings that nap all day and know nothing of the rest of Pyrrhia.

The Dark Secret
When Starflight is stolen by his own tribe, he hopes to at least discover some of the long-held Night Wing secrets - what magical powers they really have, who they're allied with in the war, and where they've been living all this time.

The Brightest Night
One will have the power of wings of fire . . . Sunny has always taken the Dragonet Prophecy very seriously. If Pyrrhia's dragons need her, Clay, Tsunami, Glory, and Starflight to end the war, she's ready to try. She even has some good ideas how to do it, if anyone would listen to her.
Payment & Security
Payment methods
Your payment information is processed securely. We do not store credit card details nor have access to your credit card information.
---
Security